(Last Updated On: 12/15/2021)
Buying lashes from Alibaba can be a daunting task. There are so many options that it's hard to know where to start. 
The initial step in buying wholesale strip lashes is to register an account. All customers need to be registered and verified before they can make a sale. It is for your protection and Alibaba's as well. They also maintain high credit standards.
Read on for our step-by-step guide on how to buy eyelashes from Alibaba. So you can find the perfect set for your budget and needs quickly.
Step 1: Register An Account On Alibaba
Before you start to register your alibaba account, You should have this
1: e-mail
2: phone.
Search on Google : www.alibaba.com, you will see the page below.
Click the Sign In button. You can find it in the upper right area of the official Alibaba website. Then, go ahead and click the Join  Free button. 
You can sign in with either your Social or Google account. They are an alternative option for you. It's normal nowadays.
By clicking on this alternative login method, you can automatically sign in to Alibaba. It is possible by using the information saved from your Social or Google Account.
While this automatic log-in is convenient, it is better to Sign Up instead. First, you need to fill up the needed information as shown below. You can register as a buyer, seller, or both. In this case, if you want to buy wholesale strip lashes, you can register as a buyer. I normally choose both. 
Country/ Region: Choose the one you located, But remember there below input a phone number, So you need to choose the county where you have the phone number.
Email address: To verify that you are a unique user, Alibaba needs your email address. Protecting the identity of our users is extremely important.
Tips: Email is the login name for you to use the alibaba, When you forget your password, alibaba will send you a verification email, So it's very important, Keep it on record.
Password: 6-20 Characters, At Least 2 letters, numbers, Symbols. Remember it or keep it on record.
Phone number: To prevent spam, Alibaba needs to trust that you're a natural person. Thus, a phone number is required. It's much harder for someone to create a spam account requiring a phone number.
Tips: Phone number is one way to get verification code to reset your password or login your account. Also extremely important
Company Name: Company name is not always needed. But it may be necessary for privacy and personal safety. It all depends on the type of account you are registering. Yet, it is a required field in the registration form. Thus, you should not leave it blank unless you will not be able to complete the registration.
Tips: When you send inquiries or orders to the thousands of the alibaba suppliers, The one with the company name is more efficient to get a fast response. So I suggest you put it on. Unless your order is so big, put your company on files favorable for any suppliers. After all, It's a B2B website, Mostly for wholesale and OEM services.
To verify, you slide right to the confirm button. Upon sliding, the tab turned to the color green. Then, you must read & agree to the Alibaba.com membership agreement. It is crucial because there may be something that needs your explicit consent. Click Agree and register.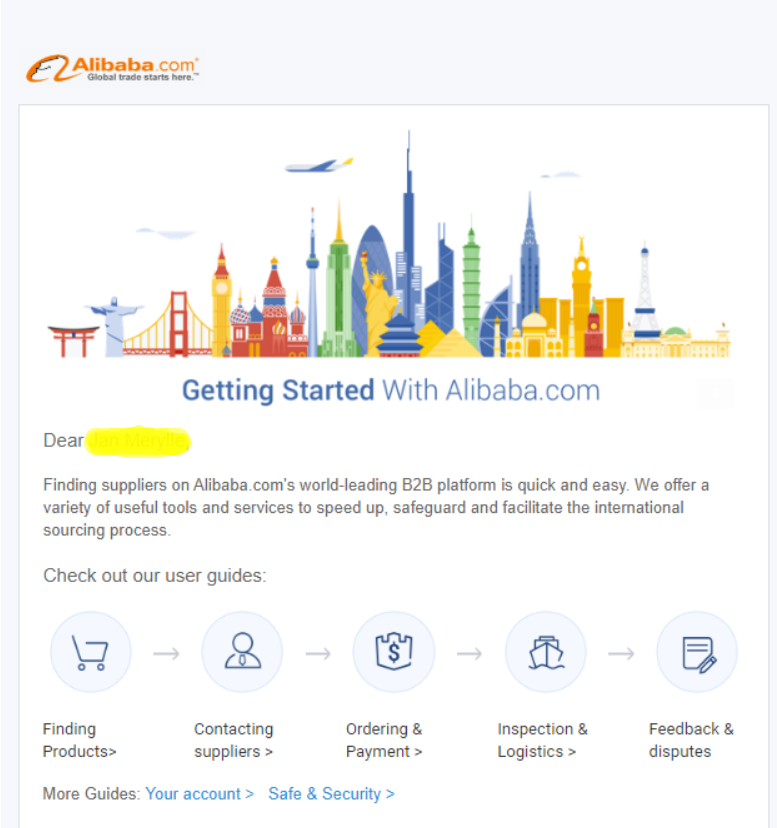 Before completing the registration, you need to verify your email address. Alibaba will send you a verification code via your registered email address.
After registering for an account, users are required to confirm their email addresses. It is because it's common for spambots to create fake accounts. Then, these accounts try to bombard the website with spam.
Legitimate accounts can get locked by such malicious activity. In addition, verification helps Alibaba to identify which accounts should be frozen or terminated.
Bank Account/Credit Card: Providing your bank account or credit card is necessary. It ensures you can easily manage your billing. In addition, it is an easier way to buy and sell eyelashes. It also provides another means of identification for creating an account.
Receive Package Address: The address must be a complete, correct shipping address. If it's not complete and correct ,the package may be sent wrong or bounce back to Alibaba.
Here's what you need to fill-up:
Post Code: A postcode is what you need to get your package delivered to your home or business,it's a must for each country to country delivery.
Street. Please enter your specifics full address with the door or building name.
State: The state is a must.
City: The city where your office or home is located.
Country: Your country
Receiver: Full name is more good. If allowed, You can leave your department name on the receivers to avoid a same name person mistaking your package.
Step 2: Fulfil Your Profile
Once you've verified your email address, your account is good to go.
To do so, click on the Personalize Now button.
Then, Alibaba will let you describe your business using the following:
Choose the one you are.
Tips: If you are selling at home or just starting your business, Just choosing an online Shop/ Store or Distributor/ Wholesaler/ Buying office/Trading Company is ok.
This really helps you to get a fast response or good prices from vendors. Why? Any suppliers like to cooperate with the company because now there are many individuals who are buying from alibaba, the vendors will provide better service if they know for the first time you are not an individual.
Next, Alibaba will ask you about your preferred industries.
Picture 11
For example, for strip lashes, it will fall under the Health & Beauty industry. This Main category includes hair products, lip products, eye products, and body products.
Tips: If you don't know what's your category, You can always click the top Alibaba Logo icon to search.
Then click any products to check the top line. It will show
Choosing a specific category will allow Alibaba to personalize your account.
For strip lashes, choose makeup tools. Makeup tools are a collection of products used on the face to change or enhance natural facial features. Thus, it includes false eyelashes.

Upon finishing to answer the questions, you may continue to answer further questions. However, you may choose not to answer them. If you do not wish to continue, click 'No thanks, I'm good for now.
If you wish to proceed, here are the questions you will answer:
What do you look for in a supplier?
As with any product you choose to purchase, choose a reputable supplier, has competitive rates and has a quick turnaround time. If they have a good return policy, it can sometimes be worth your while to order from them. You may just test out certain styles before buying in bulk. But be sure you specify which style you'd like as well as how much you want. Some suppliers may not take returns on certain damaged products even if the product is unused. Thus, keep this in mind.
What are your sourcing purposes?
Choose what you want, But always choose by b2b business purpose, which means you are a businessman or businesswoman, not just buy 1 pcs for self-use, even if you are.
Which platform do you resell items on?
Alibaba asks if you sell on Amazon, eBay, or offline.
Step 3: Search Products + Check Reviews.
Search By Keywords in alibaba front page:
Go to the front Page. enter Keywords like: "Mink lashes", click "search"Button.
it will go over any number of sellers in Alibaba to find what you are looking for. 
Tips: Pls remember to at least choose these 2 areas: Supplier type and Supplier Country.
Let me explain the meaning of this for you.
Option "Trade Assurance" : it means your order will be assured by alibaba, Those suppliers have the assurance money certificated by alibaba, Once you have order issue, Alibaba customer service will assure your profits.
The official saying is this:, You can read more from this links: https://service.alibaba.com/page/search?pageId=125&keyword=trade%20assurance&language=en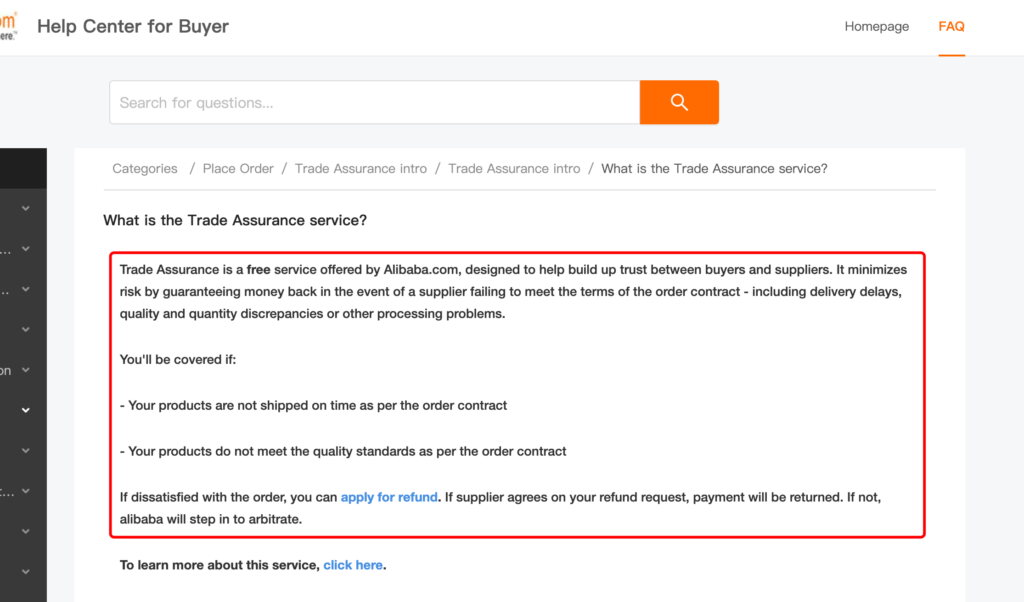 Option "VerifiedSupplier" :These suppliers have passed third-party factory inspections, at least Alibaba has conducted on-site inspections
Official saying is :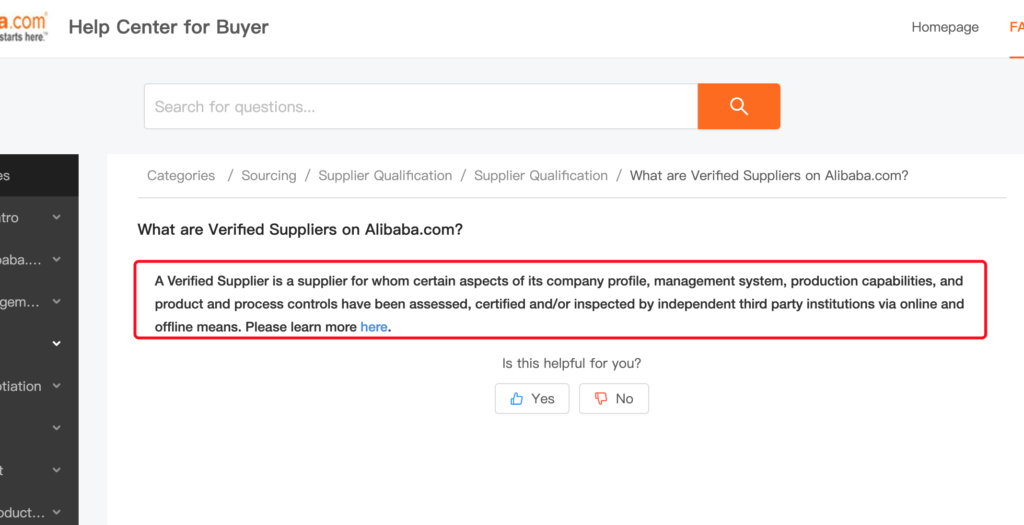 You can learn more in this links:
:https://service.alibaba.com/page/knowledge?pageId=128&category=1000088729&knowledge=1060573090&language=en
Ready To ship: Shor for RTS, if the vendor said RTS, you know what this means. This means a stock item, If you place an order, They will send it out within 15 days.
2 :Search By Product Category. Search By Product Category is a feature that lets you search for specific products within a category or across all categories.
For example, if you are looking for Beauty Products and Makeup Tools, it is easy to do so. For example, let's say that the Beauty Products and Makeup Tools have 300 results. And if you want to see products on eyelashes, you would write or choose "Eye Tools" in the filter bar.
3 :Search By Company Name/Search keywords. People generally know the specific brands and styles they like. But not the best deals. It is much easier and faster to search for eye tools by company when shopping online, instead of scrolling through all items listed in Alibaba.
It's good to search for a company because you can find companies and see what they offer. It's also a way of figuring out the quality of their products. If their ranking and reputation are excellent, it indicates that their product quality is high.
You can search company name directly
You can search keywords by searching related company
Step 4: Check Supplier Profiles
Use keywords"Mink lashes", Search,
On the products page, Click company profiles.
Company overview to check company all information
View basic information of this vendor:
Such as Stars and Reviews, Supplier index, How much transaction, response rate,
year to established, Business type, Location, Employees
A company that has been in business for a more extended period can be preferable. It is due to their stable assurance of the quality and more long-lasting warranty. There are no certainties when it comes to the reliability of online brands. Still, consumers have more faith due to years of service. You can find the years as shown in the picture.
You can check on the product page or go into the company page to see how long does the company build. What year?
C: Response or Reply Speed.
As above picture, Response time <3 hours, Response rate is 99.95%,It turns out this is a fast reply supplier. And they will reply
each inquiry and messages.
When you're buying something online, the quality of customer service is all that matters. As any customer can attest, it's frustrating to reach out with a question and not get an answer. The fastest response time is achieved when customers are contacted within an hour. Therefore, it's essential to get a reply immediately. Thus, online customers may contact the company for a return, refund, or other matters.
A: Transaction
You can click on the transaction history to know about the transaction of this company, See their customers or see your market customer, How's their order amount.
Enter click business performance: Click "view more"
4184 Transactions from the beginning to now.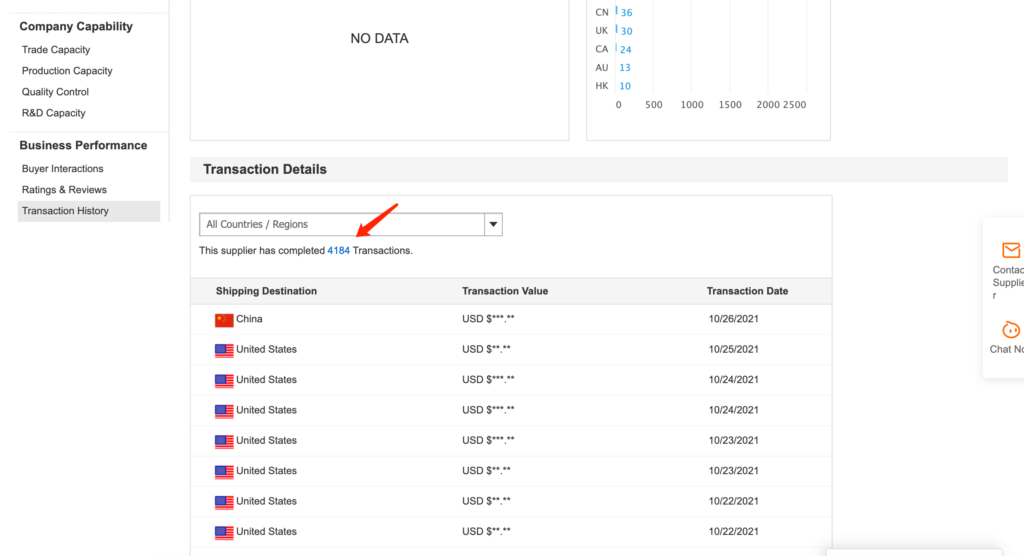 Main Market is US:
To choose your own market
To see each order amount in your market by this .
Step 5: Talk to supplier + Communication Ability.
How to talk ?
When you are on the search page, Click this place
Or click this place
Or in product page, Contact supplier= Send inquiry to their inbox
Chat now= talk to them now
Shipping Time. Shipping time is essential because it takes up time for the package to arrive at its destination. If your company follows a deadline, the shipping time is crucial. More than the arrival time, shipping times also coincide with inventory levels. It can fluctuate due to both domestic and international availability.
Product Price. Product price is essential when online shopping. It has a significant impact on your total cost and selling price. Product price is critical because it drives revenue for the product. The lower the cost, the higher our profit margin. Therefore, a low selling price will get higher profits for your company.
Reply Speed: Reply Speed is essential. Many online retailers consider the response time to be a vital part of customer service. If you're buying wholesale products, you need to ensure their quality and quantity. Thus, talking to the seller is crucial. As a buyer, you want a quick response time so that customer service can help you as soon as possible.
Step 6: Buy samples with a trade assurance order.
Buy products on product page, You can see The moq, Estimated delivery time, ship time, shipping cost, Then start to order samples.
As the above supplier needs 10 pairs moq, So we can go into the SEARCH page, Filter 1 pair supplier , Choose supplier who can sell by 1 pair, or you can simply contact supplier , ask them the sample cost.
Check Quality, Feature. You need to check the quality and features of strip lashes. Not all lashes are made from the same high-quality material. So you might as well be sure that whatever it is you're buying will last a long time. You do not want to waste a considerable amount of money on low-quality strip lashes. It is especially true when purchasing in bulk.
Check The Package: Several things can happen to the strip lash, like pressure damage. Your strip lashes may also get damaged during shipping if not properly packaged. The environment might also have caused it to dry up.
Check The Shipping Speed. Because it takes time for a package to reach its destination, delivery times are crucial. If your company has a deadline, the shipping duration is very important. Although the arrival time is important, so are shipping durations. Both domestic and worldwide availability influences them.
Check The After-Sales Service. The scope of after-sales service covers maintenance, installation, debugging, and technical support. Without good after-sales service, the user would face problems when using the products. It is also an essential component in customer satisfaction. You never know when the provider has complications beyond their control. Thus, it's nice to know that somebody can offer help.
Step 7: Buy mass orders in small quantities as a trial order.
Trial order is essential. It allows you to better understand the quality of the product before committing to a buy in bulk. It will make sure that you are not throwing money away. For example, the product above has a minimum purchase of 20 pieces. Before buying over 1000 pieces, you may try the product first.
If your expectations for the product are not met, you may buy from other companies. If the strip lashes suit your shop, buying in bulk will be safer. Because you know what you are getting, your anxiety will be minimized.
Conclusion
If you need to buy lashes from Alibaba, seven steps will help make the process easier. Now you know how to buy lashes from Alibaba in seven steps. You've got the information, so now it's time to act. Head over there and start your search for quality strip eyelashes that will save you money. With this guide as your starting point, ordering high-quality fake eyelashes online is easier than ever before.